Online Classes (LIVE Classes

 and 

Pre-Recorded Classes)

 will soon be available on www.PilatesOnline365.com – please send me an e-mail via the Contact-Us Page on www.PilatesOnline365.com if you are interested in those Online Classes, so I can contact you once I'm going live with the first classes. Thanks Martin
---

Beginners
to 
Intermediate Pilates Classes and Courses!
My classes take place near the 
Yellow House Pub
in the 
"old Court House" in Rathfarnham.
St. Mary's Pastoral Parish Centre
, close to Marlay Park and Rathfarnham Village.
.
South Dublin, Dublin 14, D14, Dublin 16, D16, Rathfarnham, Whitechurch, close to Nutgrove Shopping Centre, Terenure.
All Abilities, Ages, Fitness Levels  – Women
and
Men are welcome!
Pilates & Core Strength – Sample Pilates Program, Routine
1. * Wednesday Morning *: 10am-11am
2. Classes size – small: maximum 8-10 participants per class
3. Join: ** Anytime in January 2020 **
4. My Wednesday Morning January 2020 Classes restart on the 8th January 2020!
__ There will be *no* class on Wednesday 15th January 2020.
5. Venue: The Old Court House, off Willbrook Road,
Rathfarnham, D14, Dublin 14, close to Nutgrove Shopping Centre.
(click on the picture below to view the class venue or find a Map, Street-View here.)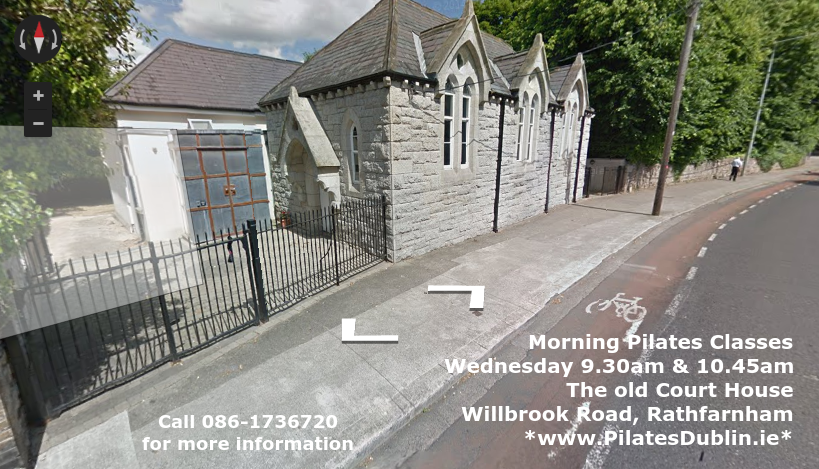 6. Level: Beginners to Intermediate
6.1 Ideally you have done some Pilates before, contact Martin if you haven't and we can discuss the options.
6.2 I also assume you don't have any major back, neck or other joint issues.
Please call me if you have any questions in relation to that.
7. Pilates Equipment: various small Pilates and Fitness Equipment will be provided.
8. Prices:
Payments can be made cash, via cheque or online (see below, ** a small online-transaction fee applies)
8.1. – 7-week Course (7 consecutive weeks)  €95.00 (pro-rata if a 7-week course has already started).
8.2. – Booking Deposit (non-refundable) €50.00
8.3. – Drop-In €15 (if availability allows, please contact Martin before you plan to come along)
Use our Easy and Quick Online Payment Option on my partner-website www.yourHealthHabitCoach.com
to pre-book your place (bottom of the page).

Join Anytime!
Call, Text or E-mail – Martin (click here) for further information, bookings or with any questions you might have.