Online & Virtual Pilates Ćlasses are ongoing in June 2021.
We re-start our local In-Person South Dublin Classes - once Covid-19 restrictions allow.
In the meantime ....
(1) Click >>> For Post-Lockdown/Covid-19 --- Updates --- on *local In-Person Classes* - Register here.
(2) Click >>> For - Live-Virtual & Online Pilates Classes with - Martin - www.PilatesOnline365.com

---

Beginners to Intermediate Pilates Classes and Courses!
My classes take place near the Yellow House Pub in the "old Court House" in Rathfarnham.
St. Mary's Pastoral Parish Centre, close to Marlay Park and Rathfarnham Village.
.
South Dublin, Dublin 14, D14, Dublin 16, D16, Rathfarnham, Whitechurch, close to Nutgrove Shopping Centre, Terenure.
All Abilities, Ages, Fitness Levels  – Women and Men are welcome!
Pilates & Core Strength – Sample Pilates Program, Routine
1. * Wednesday Morning *: 10am-11am
2. Small Classes: maximum of 8-10 participants per class
3. Classes re-start: ** once we are out of Lockdown & Covid-19 restrictions allow **
4. I don't know yet exactly when the Parish Centre Classes in Rathfarnham will re-start, as I'm waiting
__ to hear back from the Parish Centre Management (12th June 2021) 
5. Venue: The Old Court House, off Willbrook Road,
Rathfarnham, D14, Dublin 14, close to Nutgrove Shopping Centre.
(click on the picture below to view the class venue or find a Map, Street-View here.)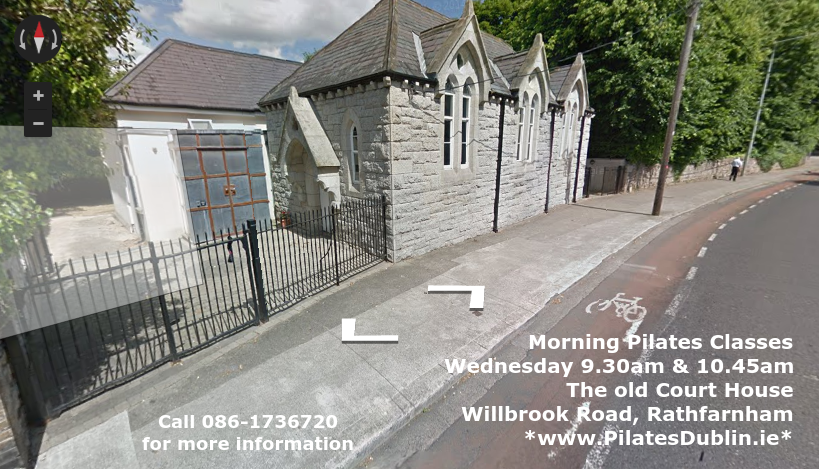 6. Level: Beginners to Intermediate
6.1 Ideally you have done some Pilates before, contact Martin if you haven't and we can discuss the options.
6.2 I also assume you don't have any major back, neck or other joint issues.
Please call me if you have any questions in relation to that.
7. Pilates Equipment: various small Pilates and Fitness Equipment will be provided.
8. Prices:
Payments can be made cash, via cheque or online (see below, ** a small online-transaction fee applies)
8.1. – 7-week Course (7 consecutive weeks)  €95.00 (pro-rata if a 7-week course has already started).
8.2. – Booking Deposit (non-refundable) €50.00
8.3. – Drop-In €15 (if availability allows, please contact Martin before you plan to come along)
Join Anytime!
Call, Text or E-mail – Martin (click here) for further information, bookings or with any questions you might have.